Posts for tag: Bone Grafting
By Lawrenceville Dental Implant Center And Periodontics, LLC
March 01, 2018
Find out why bone grafting is often the key to a successful dental implant.
You have decided that dental implants might be the best way to replace your missing teeth. This is great to hear! Dental implants are truly the closest you can come to natural teeth. Of course, our Lawrenceville, NJ, periodontists, Dr. John Lu and Dr. Raul Figueroa, want to make sure that your jawbone is strong enough to support your new implants.
Of course, this means performing a thorough evaluation and X-rays to make sure that you haven't lost a significant amount of bone density. If the X-rays show a substantial amount of bone loss, don't despair. This doesn't mean that you can't get dental implants. We may just recommend that you undergo bone grafting prior to getting your implants to ensure that the implant is successful.
What is bone grafting?
This surgical procedure is performed when there isn't enough healthy bone to support an implant, which is often the case if you left tooth loss untreated for a while. During this surgery, our Lawrenceville periodontic specialist will take bone from another area of the body (or processed bone taken from an animal) and apply it to the jawbone. Over time, the bone graft will heal and become part of the jawbone, strengthening the jawbone so that it can support a dental implant.
Of course, it will take several months for the jawbone to heal and be ready for a dental implant. Depending on the severity of your bone loss, it can take anywhere from three to 12 months before we can begin your dental implant procedure. While this can certainly be a long process, the outcome and results you'll receive when you get bone grafting and a dental implant far surpass other tooth loss options out there. Plus, a dental implant could just end up lasting you the rest of your life.
If you are interested in getting dental implants in Lawrenceville, NJ, then it's time you turned to a dental team that can help you get your smile back on track. Call Lawrenceville Dental Implant Center And Periodontics today to schedule your free consultation.
By Lawrenceville Dental Implant Center And Periodontics, LLC
November 14, 2016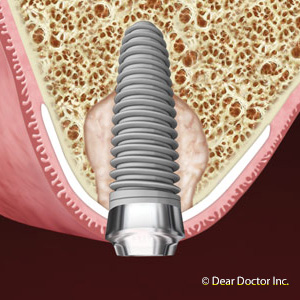 Losing a tooth from disease or accident can be traumatic. The good news, though, is that it can be replaced with a life-like replica that restores your smile. One of the most popular and durable solutions is a dental implant, which replaces not only the root of the tooth but the crown as well.
But there's a possible wrinkle with implants — for accurate placement there must be a sufficient amount of bone around it. This could be a problem if you've been missing the tooth for sometime: without the stimulus provided by a tooth as you chew, older bone cells aren't replaced at an adequate rate. The bone volume gradually diminishes, as up to 25% of its normal width can be lost during the first year after tooth loss. A traumatic injury can damage underlying bone to an even greater extent.
There is a possible solution, but it will require the services of other specialists, particularly a periodontist trained in gum and bone structure. The first step is a complete examination of the mouth to gauge the true extent of any bone loss. While x-rays play a crucial role, a CT scan in particular provides a three-dimensional view of the jaw and more detail on any bone loss.
With a more accurate bone loss picture, we can then set about actually creating new bone through grafting procedures. One such technique is called a ridge augmentation: after opening the gum tissues, we place the bone graft within a barrier membrane to protect it. Over time the bone will grow replacing both the grafting material and membrane structure.
Once we have enough regenerated bone, we can then perform dental implant surgery. There are two options: a "one-stage" procedure in which a temporary crown is placed on the implant immediately after surgery; or a "two-stage" in which we place the gum tissue over the implant to protect it as it heals and bone grows and attaches to it. In cases of pre-surgical bone grafting, it's usually best to go with the two-stage procedure for maximum protection while the bone strengthens around it.
Necessary preparation of the bone for a future dental implant takes time. But the extra effort will pay off with a new smile you'll be proud to display.
If you would like more information on special situations with dental implants, please contact us or schedule an appointment for a consultation.
By Lawrenceville Dental Implant Center and Periodontics, LLC
April 24, 2016
When it comes to our teeth, we tend to focus almost exclusively on how they look. Sure, most people understand that gum disease is a serious problem, but if they're honest, most people are also likely to admit that the cosmetic aspects of their smile, such as tooth color
and shape, tend to take precedence over the gums, let alone the tissue living underneath the gums. But like any structure in the body, the bone matter that supports our teeth below the gum line is the foundation of our overall oral health. Seemingly insignificant lifestyle habits like consuming too much sugar or "forgetting" to floss every day, as well as uncontrollable factors like dental trauma and accidents can affect the bone structures in the jaw that support the teeth.
What is Periodontal Bone Grafting?
Once a tooth is lost, the bone structure that keeps the root in place under the gums begins to erode. Tooth replacement options like dental implants, which are a more permanent alternative to dentures and dental bridges, require sufficient bone density in order to work. Oral bone grafting works the same way as grafts to other parts of the body. Compatible material from either a donor, synthetics, or the patient is used to fill in for the missing tissue. At Lawrenceville Dental Implant Center and Periodontics, LLC, the procedure is performed in the office under local anesthesia.
There are four types of grafts:
Synthetic material (Alloplast)
Bovine material (Xenograft)
Material from the patient's own body (Autograft)
Material from a deceased donor (Allograft)
It is a minor dental surgery, and once the graft has been added, the body begins to produce healthy new bone tissue that eventually replaces the graft.
Dental Bone Grafting in Lawrenceville
Problems below the gum line can be hard to detect without a professional dental exam. Some defects can go undetected for months or even years, increasing the risk for tooth decay, loss of healthy bone tissue, and other potentially serious health complications in the future. For more information on preventing periodontal disease and maintaining your oral health, or to learn more about whether a bone graft is right for you, contact Lawrenceville Dental Implant Center and Periodontics, LLC at (609) 896-0700 to schedule an appointment today.
Find Us
Lawrenceville, NJ Periodontist
Lawrenceville Dental Implant Center And Periodontics, LLC
133 Franklin Corner Road
Lawrenceville
,
NJ
08648
(609) 896-0700
Call For Pricing Options
Our office has flexible hours to fit your busy schedule