Posts for tag: gummy smile
By Lawrenceville Dental Implant Center And Periodontics, LLC
January 11, 2020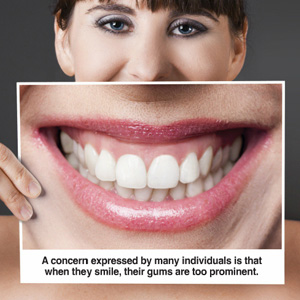 Even with picture perfect teeth, you may still be unhappy with your appearance. The problem: too much of your upper gums show when you smile.
There's no precise standard for a "gummy smile"—it's often a matter of perception. As a rule of thumb, though, we consider a smile "gummy" if four or more millimeters of upper gum tissue show while smiling. In any event if you perceive you have a gummy smile, it can greatly affect your self-confidence and overall well-being.
The good news is we can often correct or at least minimize a gummy smile. The first step, though, is to find out why the gums are so prominent.
There are a few possible causes: the most obvious, of course, is that there's more than normal gum tissue present. But the cause could be the front teeth didn't fully erupt in childhood and so the gums appear more prominent. Other causes include the upper lip moving too far upward when smiling (hypermobile) or an elongated upper jaw that's out of proportion with the face.
Finding the exact cause or combination of causes will determine what approach we take to minimize your gummy smile. If too much gum tissue or not enough of  the teeth show, we can use a surgical procedure called crown lengthening to expose more of the crown (the visible part of a tooth), as well as remove excess gum tissues and reshape them and the underlying bone for a more proportional appearance.
A hypermobile upper lip can be treated with Botox, a cosmetic injection that temporarily paralyzes the lip muscles and restricts their movement. But for a permanent solution, we could consider a surgical procedure to limit upper lip movement.
Surgery may also be necessary for an abnormal jaw structure to reposition it in relation to the skull. If, on the other hand it's the teeth's position and not the jaw causing gum prominence, we may be able to correct it with orthodontics.
As you can see, there are several ways varying in complexity to correct a gummy smile. To know what will work best for you, you'll need to undergo an orofacial examination to determine the underlying cause. It's quite possible there's a way to improve your smile and regain your self-confidence.
If you would like more information on improving a gummy smile, please contact us or schedule an appointment for a consultation. You can also learn more about this topic by reading the Dear Doctor magazine article "Gummy Smiles."
By Lawrenceville Dental Implant Center And Periodontics, LLC
December 11, 2015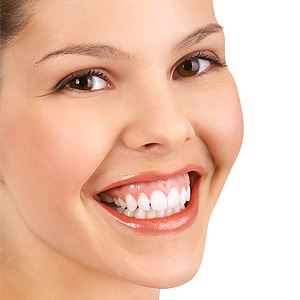 A "gummy" smile, in which the upper gums are too prominent, is a common condition. There are several causes for gummy smiles — determining which one is the first step to having your appearance changed.
Although perceptions vary from person to person, most dentists agree a gummy smile shows 4 mm or more of gum tissue, and the amount is out of proportion with the length of the crown (the visible tooth). Teeth normally erupt through the gums during childhood and continue development until early adulthood, shrinking back from the tooth until stabilizing in place.
This typically produces a crown length of about 10 mm, with a "width to length" ratio of about 75-85%. But variations can produce differences in the relationship between teeth and gums and the width to length ratio of the teeth. The teeth may appear shorter and the gums more prominent. Worn teeth, caused by aging or grinding habits, may also appear shorter.
If tooth to gum proportionality is normal, then the cause may be upper lip movement. When we smile, muscles cause our lips to retract 6-8 mm from the lip's resting position. If the amount of movement is greater (meaning the lip is hypermobile), it may show too much of the gums. The upper jaw can also extend too far forward and cause the gums to appear too prominent.
There are a number of ways to improve gummy smiles, depending on the cause. Periodontal plastic surgery known as crown lengthening removes and reshapes excess gum tissue to reveal more of the tooth. Lip hypermobility can be reduced with Botox injections (to paralyze the muscles) or in some cases with surgery to reposition the muscle attachments. Orthognathic surgery can be used to surgically reposition an overextended upper jaw. Other cosmetic enhancements such as orthodontics, bonding or porcelain restorations can also prove effective.
The first step is to obtain an accurate diagnosis for your gummy smile. From there, we can devise the best treatment approach to bring your smile back into a more attractive proportion.
If you would like more information on minimizing a gummy smile, please contact us or schedule an appointment for a consultation. You can also learn more about this topic by reading the Dear Doctor magazine article "Gummy Smiles."