Posts for tag: periodontist
By Lawrenceville Dental Implant Center And Periodontics, LLC
April 22, 2021
If you've ever struggled with gum disease or any other issues with your gums, seeing a periodontist may be the right choice for you. A periodontist can help with any gum issues you may be struggling with and in turn, can help strengthen your smile. Dr. John Lu, Dr. Raul Figueroa, and Dr. Kevin Murawski at Lawrenceville Dental Implant Center And Periodontics, LLC, in Lawrenceville, NJ, are here to answer any questions you may have about what a periodontist can do for you.
What is a Periodontist?
A periodontist is a specialist that treats gum and periodontal disease. Periodontal disease is caused by a build-up of plaque and bacteria, which can produce toxins that cause teeth to decay. The biggest difference between a regular dentist and a periodontist is that your periodontist goes through three extra years of specialty training to learn how to treat such a sensitive area of the mouth.
Your periodontist in Lawrenceville, NJ, can perform several specialty procedures to help prevent and treat disease. Some of these include:
Non-surgical periodontal therapy- This could include procedures such as scaling and root planning to help treat periodontal disease.
Gum grafting- This procedure helps with receding gums and increases soft tissue support around your teeth.
Cosmetic gum surgery- If you've ever struggled with uneven or misshaped gums, this surgery can reshape any excessive or uneven gums.
Tooth extraction- If you have a tooth that is decayed and is causing more issues for the teeth around it, you may need an extraction.
Contact Your Periodontist Today!
To find out more about what your periodontist can do for you, call Dr. John Lu, Dr. Raul Figueroa, and Dr. Kevin Murawski at Lawrenceville Dental Implant Center And Periodontics, LLC, in Lawrenceville, NJ, today to ask any questions you may have! Call (609) 896-0700 today!
By Lawrenceville Dental Implant Center And Periodontics, LLC
January 26, 2019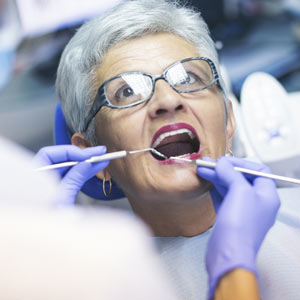 It's likely you depend on your regular dentist for the lion's share of your dental care. But in cases of advanced disease or trauma, you may need the services of a dental specialist.
This could be the case with periodontal (gum) disease, a bacterial infection triggered by a thin biofilm on tooth surfaces called dental plaque that isn't adequately removed through daily oral hygiene practices. While your regular dentist can effectively treat many forms of gum disease, there are times when you should see a periodontist who specializes in the gum, supporting bone and connective tissues.
So, when should you see a periodontist for gum disease treatment? Here are 3 situations that may call for this important dental specialist.
If your dentist refers you. Your dentist may be quite proficient in treating gum disease, mainly by removing the dental plaque and tartar sustaining the infection. But if the infection has advanced deep within the gum tissues especially around the roots and bone, you may need more advanced measures, including surgery, performed by a periodontist.
If you'd like a second opinion. Of course, you don't need a referral to see a periodontist. You can make an appointment with one for another opinion about your diagnosis and recommended treatment plan. If you choose to see a periodontist, make sure they have access to all your dental and medical records, as well as your past health history.
If you have other health issues. Gum disease often doesn't occur in a vacuum – it may exist and even influence (or be influenced by) other inflammatory medical conditions. If you have such a condition like diabetes or cardiovascular disease, you may opt to see a periodontist first for a more comprehensive evaluation.
In the meantime, keep an eye out for the first signs of disease including red, swollen or bleeding gums (if you smoke, be aware smoking hides these signs of disease). And practice daily brushing and flossing as well as obtaining regular dental cleanings to keep plaque accumulation to minimum. Preventing gum disease and getting treatment as early as possible may help you avoid more invasive treatments later.
If you would like more information on treating gum disease, please contact us or schedule an appointment for a consultation. You can also learn more about this topic by reading the Dear Doctor magazine article "When to See a Periodontist."
By Lawrenceville Dental Implant Center And Periodontics, LLC
February 22, 2016
Periodontists are dental specialists who treat problems of the gums, connective tissues and bones. John Lu, DMD, and Raul Figueroa,
DMD, your Lawrenceville, NJ, periodontists at Lawrenceville Dental Implant Center and Periodontics, LLC, explain what sets periodontists apart from general dentists.
Specialized Training
Periodontists are dentists who receive specialized training after dental school. These dentists spend an additional three years learning how to diagnose and treat periodontic problems and perform dental implant and surgical procedures.
Gum Disease Experts
Gum disease can quickly destroy your smile if you don't receive periodontic treatment. If your dentist notices that you have pockets around your teeth, he or she will refer you to a periodontist. Pockets occur when a bacterial infection causes your gums to pull away from your teeth. This infection is not only painful but can result in tooth loss if it progresses to your bone.
Periodontists treat gum disease with a procedure called planing and scaling. During planing and scaling, they remove plaque and tartar from teeth and smooth them to get rid of bacteria. Periodontists also perform bone and gum grafting surgery if damage from gum disease is severe. Grafts replace lost gum and bone tissue and help prevent tooth loss.
Implant Specialists
Thanks to their training, periodontists are skilled in performing dental implants. After tooth loss, an implant is placed in your jawbone to replace the roots of a missing tooth. Implants look like tiny screws and are made with titanium, a lightweight metal that is compatible with bone. Over the course of several months, the implant bonds with your jawbone. When the process is complete, a crown is added to the top of the implant, allowing you to chew, bite and speak normally. Implants offer a permanent solution to tooth loss, unlike bridges and dentures.
Are you interested in replacing a missing tooth, or are you concerned about gum disease? Call Lawrenceville Dental Implant Center and Periodontics, LLC, at (609) 896-0700 and make an appointment today. Drs. Lu and Figueroa, your Lawrenceville, NJ, periodontists, are committed to helping you enjoy good dental health.